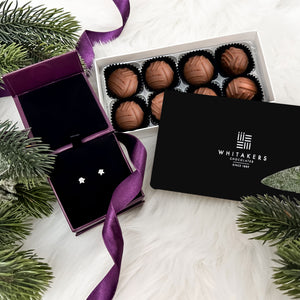 while stocks last
Free Box of Chocolates & Delivery
when you spend £79 or spend £99 and
get all that PLUS Free Sparkle Earrings.

T&C's Apply. Excludes Sale Lines.
72 products
---
Change up your look time after time with a perfectly accessorised Thomas Sabo necklace! When it comes to adding interest a necklace is the perfect piece to lift an outfit, add some sparkle and colour and Thomas Sabo have got quite the collection to explore. From the stunning, statement sparkle of the Silver Compass Necklace to the bright jewels of the Colourful Forms and Shapes Necklace- however subtle or bold you want to go, there's a Thomas Sabo necklace for you. Shop the collection now!
Strikingly stunning, quietly elegant and simply gorgeous - the wide range of Thomas Sabo necklaces for ladies includes an array of items to suit every woman's style and taste, from classic statement pieces in silver to stunning semi-precious gems in a range of vibrant hues: discover stunning accessories in semi-precious diamonds, gold, yellow gold and cubic zirconia; find stunning bracelets in silver, gold and rose gold; find stunning earrings in a range of stunning styles: choose from a range of classic designs, including vintage and retro, modern and contemporary Thomas Sabo Jewellery. The wide variety of necklaces also means that they're suitable for every occasion. Find jewellery for every style of woman from everyday wear to evening wear and everything in between!
From casual everyday wear to evening wear, Thomas Sabo silver necklaces and charms are an elegant choice for both evening and night out wear. The range of stunning silver jewellery is available in classic silver, semi-precious beads and silver, gold, and platinum styles; and the stunning range of fine silver earrings, bracelets and necklaces allows you to create a look that will make you stand out from the crowd.
---