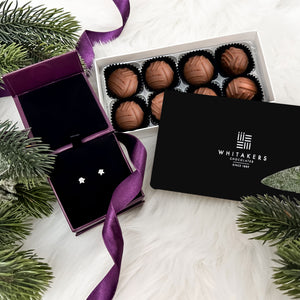 while stocks last
Free Box of Chocolates & Delivery
when you spend £79 or spend £99 and
get all that PLUS Free Sparkle Earrings.

T&C's Apply. Excludes Sale Lines.
80 products
---
Ol & Co jewellery has a magnificent yet unique story behind the brand and offers a widespread range of designs and symbols throughout their collection.
With an evident eye for detail combined with the knowledge of the power of jewellery to evoke positive emotion, Ol & Co began an ambitious project within an ever growing and competitive industry which has seen the brand unmistakeably succeed in their collaborative effort with a fashion forward female team, producing meaningful jewellery, each with a personal story attached. 
The brand has seen their products inspired by emotive moments, remarkable memories and symbolic significance which are collected and stirred to a single cauldron in order to produce some of their most recognisable products from star signs to iconic dreamcatcher designs.
Made from 925 sterling silver and also available in rose gold plating, Ol & Co jewellery produces some of the industry's most affordable jewellery available with each individual piece, from earrings to bangles, telling their own exclusive story inspired by the people, for the people.
Some of Ol & Co's most recognisable symbols and designs come in the form of the dreamcatcher, symbolising purpose and meaning, the feather, which symbolises communication and self-expression and the wishbone which symbolises luck and fortune to the wearer.
---