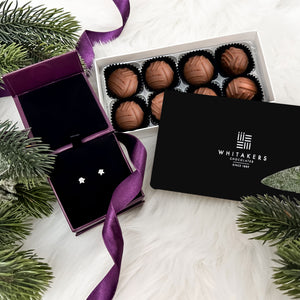 while stocks last
Free Box of Chocolates & Delivery
when you spend £79 or spend £99 and
get all that PLUS Free Sparkle Earrings.

T&C's Apply. Excludes Sale Lines.
5 products
---
When it comes to gifts, nothing says 'sentimental' quite like a charm bracelet and that's certainly true of Nomination Bracelets. Nomination bracelets come in silver, gold or rose gold and as an extension bracelet or as a composable bracelet meaning you can add on your favourite links and charms as and when you please. With Nomination bracelets starting from £63, there's never been a better time to shop!
Personalised Silver Bracelets
A Nomination Bracelet is made up of links or charms and the look can be personalised for a friend or loved one. If you want to check out the Nomination charms you will find some lovely gift ideas to help personalise the bracelet. Affordable designer jewellery with personalisation really does enhance a gift and with the range of silver and rose gold charms and links for Nomination Bracelets there is plenty of choice. With the Classic Stainless Steel Starter Nomination Bracelets you must purchase a charm or link. The Nomination Bracelets come in a few different colours and are compatible with the charms and links. You can find some specific messages for Dad or Daughter and there are also anniversary and birthday messages. With the introduction of landmarks like the Statue of Liberty you can really add some extra personalisation to the Nomination Bracelets creating a really thoughtful and meaningful gift with designer jewellery. You can now create your own silver charm bracelet and continue to evolve as time goes by. With the coloured charms it is possible for other family members and friends to buy them and add to a unique piece of jewellery.
---