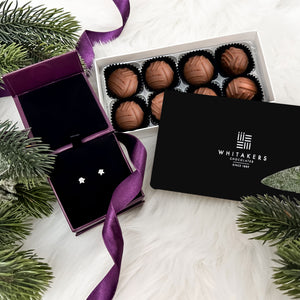 while stocks last
Free Box of Chocolates & Delivery
when you spend £79 or spend £99 and
get all that PLUS Free Sparkle Earrings.

T&C's Apply. Excludes Sale Lines.
462 products
---
Browse stunning pieces of 
Thomas Sabo Jewellery
 that cater for every occasion, from edgy, forward thinking pendants to classic, elegant rings. Shop the famous charm club collection where you can build your own unique bracelet, full of charms that reflect your fondest memories. Choose your jewellery from iconic landmarks to cute animals, and birthstones to love hearts, all in a variety of finishes including sterling silver, rose and yellow gold plating in our Thomas Sabo range.
THOMAS SABO DESIGNER JEWELLERY IN STOCK
Mococo stock the most popular Thomas Sabo Jewellery Collections including Karma, Rebel at Heart, Sterling Silver, Little Secrets, Africa and Together.
THOMAS SABO RINGS AND CHARMS
Make a statement with our beautiful Thomas Sabo Rings collection including diamond and other similar stones, or maybe begin your charm club journey with a charm bracelet and the adorable and collectable Thomas Sabo charms.
THOMAS SABO EARRINGS
At Mococo we offer a wide selection of Thomas Sabo earrings from stud earrings to drop and dangle earrings in a variety of colours including silver and gold.
THOMAS SABO SPECIAL OCCASION RINGS
When it comes to a special piece of jewellery Thomas Sabo offers a stunning selection of gifts for bridesmaids as wedding gifts, some lovely silver necklaces and bracelets with hearts and modern designs.
CHARM CLUB
One of the most popular accessories today is a silver bracelet. Most girls and women prefer to wear silver or platinum bracelets because they give a glamorous look. Charm bracelets are designed in different shapes and designs that will be perfect for your special occasion. Charm Club charms make for an ideal 'gift for her' whether that be your daughter, girlfriend or mum.




DESIGNER JEWELLERY

Thomas Sabo has been the leading

 

designer jewellery

 

brand for women all over the world. You can find silver jewelry in different shapes and colours like heart,

 

diamond

, round, oval, heart and square. In fact, these precious and fashionable silver charm bracelets are the best gift ideas for bridesmaids.




ELEGANT SILVER BRACELETS

The bracelets are elegant yet attractive. They look very classy and chic.




SILVER CHARM BRACELET

If you want to have a silver charm bracelet that stands out and looks beautiful then you should consider buying a bracelet made by Thomas Sabo. There are many designs and styles to choose from, which means that you can choose the one that fits your personality and style. The silver charm has become a very popular choice in bracelets and necklaces.
THOMAS SABO NECKLACES

Strikingly stunning, quietly elegant and simply gorgeous - the wide range of Thomas Sabo necklaces for ladies includes an array of items to suit every woman's style and taste, from classic statement pieces in silver to stunning semi-precious gems in a range of vibrant hues: discover stunning accessories in semi-precious diamonds, gold, yellow gold and cubic zirconia; find stunning bracelets in silver, gold and rose gold; find stunning earrings in a range of stunning styles: choose from a range of classic designs, including vintage and retro, modern and contemporary jewellery. The wide variety of necklaces also means that they're suitable for every occasion. Find jewellery for every style of woman from everyday wear to evening wear and everything in between!




THOMAS SABO JEWELLERY

From casual everyday wear to evening wear, Thomas Sabo silver necklaces and charms are an elegant choice for both evening and night out wear. The range of stunning silver jewellery is available in classic silver, semi-precious beads and silver, gold, and platinum styles; and the stunning range of fine silver earrings, bracelets and necklaces allows you to create a look that will make you stand out from the crowd.




MODERN OR CONTEMPORARY STYLE

Whether you want to create a modern or sophisticated look, Thomas Sabo silver necklaces will be a fabulous addition to your wardrobe. You can create a sleek and sophisticated look with a pair of gold or silver earrings, while choosing a stylish and subtle silver necklace for your everyday style. Whatever your style, you'll find the right silver necklace to create a stunning look and sometimes even at the special price!




THOMAS SABO NECKLACES, CHARMS AND OTHER JEWELLERY

thomas sabo bangles, rose gold earrings, rose gold necklace, rose gold bracelet, rose gold jewellery, thomas sabo offers, thomas bracelet, thomas sabo skull bracelet, thomas sabo skull, thomas sabo chains, thomas sabo watches sale, thomas , abo jewellery box, gold jewellery uk, thomas sabo beads sale, charm bracelets uk, thomas sabo love bracelet, thomas sabo mens jewellery, thomas sabo childrens bracelet, jewellery necklace, thomas sabo silver bead bracelet, thomas sabo, riendship bracelet, thomas sabo online, thomas sabo ring sale, thomas sabo owl charm, thomas sabo necklace pendants.




POPULAR THOMAS SABO RANGES

Two of the most popular ranges in the Thomas Sabo collections are the 'Charm Club' and the 'Karma Collection'. In these two collections you will find some lovely jewellery which is normally sold at the regular price.
---